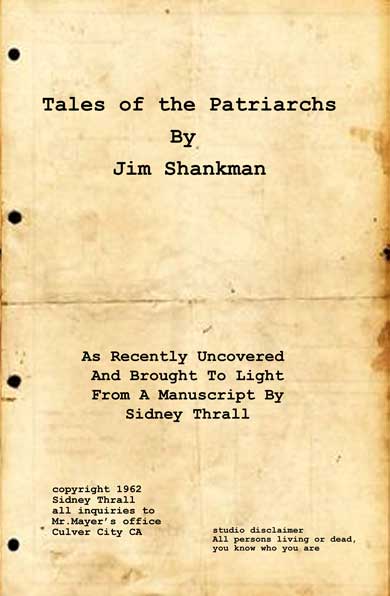 Tales Of The Patriarchs
Tales of the Patriarchs is a novel about the early days of Hollywood when a handful of dreamers created a new art form in a desert by the sea, a fabulist retelling of the mythic tales of the silent film era when the original sins of Hollywood became the folk bible of a new American religion.
Filled with the romance, black comedy and pornography of the human soul, Tales of the Patriarchs explores the truths, the legends and the lies behind the lives of the patriarchs who created Hollywood. If Isaac Bashevis Singer and F. Scott Fitzgerald had lunch at Schwabs Drugstore and scribbled a 500 page deal memo on the back of a napkin, it might be this book.
Tales Of The Patriarchs is available at Amazon.com in paperback and kindle versions.

Storm Still
Stephan Wilder is a feckless old rogue of an actor, an ever-recovering alcoholic actor who has very little left in his ramshackle life except his memories of a wastrel career on the stage and a tiny apartment in New York's Greenwich Village. But he has been offered the role of King Lear at a small but prestigious theatre in Palm Beach, Florida. At the height of hurricane season.
Notes For A Theory OfThe Chaos At The Heart Of Things
Notes For A Theory Of The Chaos At The Heart Of Things is a derelict black comedy about love, money, genius and madness set in the rarefied worlds of Wall Street and Westchester County, NY, and on the beat streets of the Lower East Side.
Howie's On Charlie (an excerpt)